Find My Profession Review
Trusted by professionals from
A resume service review by another resume company might seem a bit odd. But we are reviewing Find My Profession for a good reason.
We want to offer another great option, especially for executive-level professionals, federal job seekers, and other senior professionals. It's important to compare multiple options when choosing the best resume service for your particular needs and career trajectory.
In this article, you will get in-depth information about Find My Profession and professional resume services in general.
Services Offered and Pricing
Find My Profession offers career services for all levels of professionals. However, their overall service structure is more geared towards executive roles, federal jobs, and other senior-level professions.
Find My Profession can assist you in resume writing and other career documents in these six categories: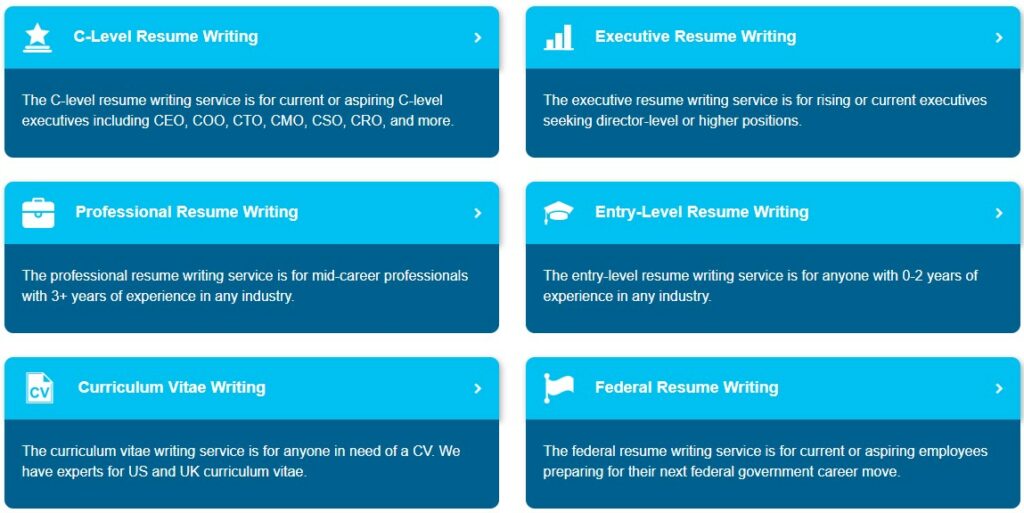 Find My Professions's pricing for resumes is below:
C-Level Resume Writing – $995
Executive Resume Writing – $795
Professional Resume Writing – $595
Entry-Level Resume Writing – $395
Curriculum Vitae Writing – $695+
Federal Resume Writing – $695+
Each of these categories has separate pricing structures based on your level of experience.
Naturally, a resume for a professional with more years of experience takes more time to create and costs a bit more than a resume designed for a junior-level professional.
That's why the entry-level resume-only package starts at $395 while the C-level resume costs $995. Other categories are also priced accordingly.
Find My Profession offers cover letter writing and a LinkedIn profile makeover as additional services, depending on the resume package you sign up for.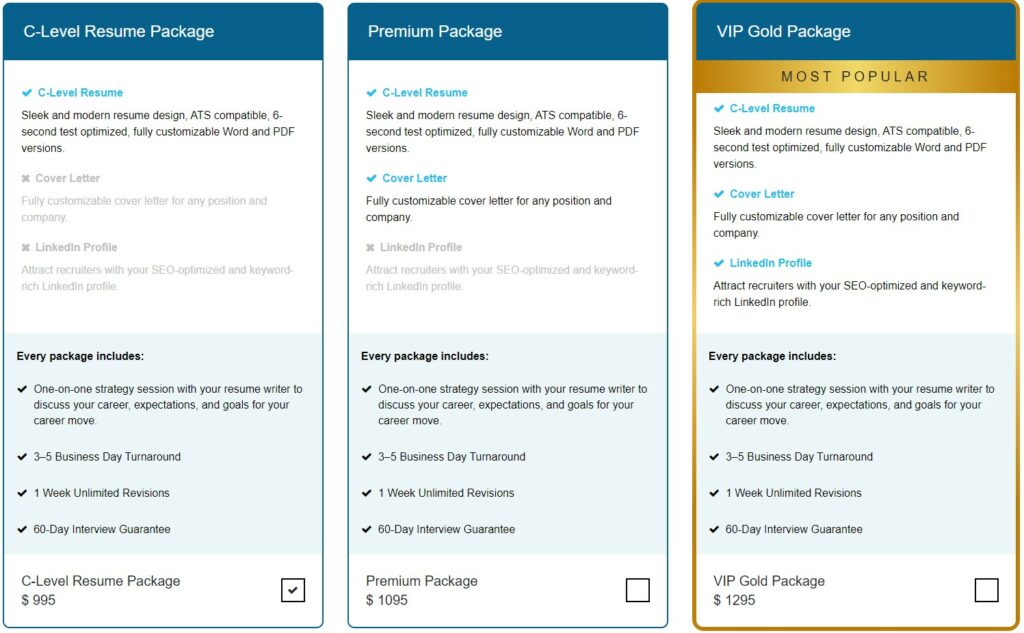 Apart from that, you can also get a full spectrum of career coaching services from the company.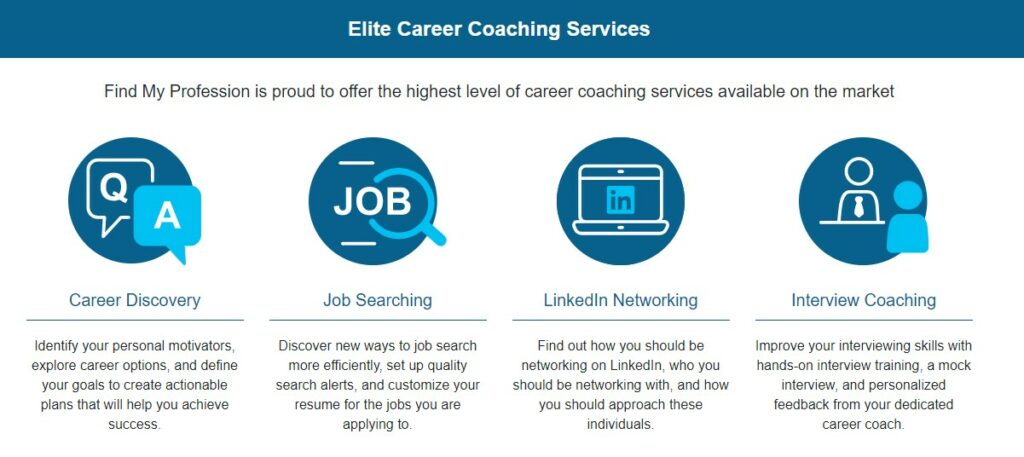 Another unique service offering from Find My Profession is their Career Finder Service that carries out professionally managed job searches on your behalf.
Resume Writing Process
The resume writing process of Find My Profession is quite similar to the one at ResumeZest.
While it is tailored to your specific needs, it's also easy, fast, and hassle-free.
The only difference is that Find My Professional offers an additional phone consultation option for you after getting your resume draft.
Here's the typical resume writing process at Find My Profession:
Select your desired package and sign up.
Send your existing resume and other details to the resume director.
Have a one-on-one phone consultation with your resume writer to discuss your career needs and resume strategy.
Get your resume draft within 3 – 5 business days. (You can also get it within 48 hours if you opt for expedited delivery.)
You will have a seven-day revision period to request any edits or revisions you may need.
You can also have an optional follow-up call at this stage to discuss any other needs or concerns.
There are more details on the website:

Two things that must be mentioned here are the importance of the one-on-one phone consultation and the 48-hour expedited delivery option.
The phone consultation with your resume writer is a vital element because it allows you to engage in a collaborative resume writing process. It gives you enough time to provide as many details about your career as you want.
It also allows you to discuss with your resume writer the critical aspects of your career situation as well as your career goals and aspirations.
As with ResumeZest, Find My Professional offers one of the fastest turnaround times in the industry.
The regular turnaround time has your resume done and sent to you in just three to five days, while the priority delivery option gets it done in only 48 hours.
Resume Guarantee
Find My Profession offers a 60-day interview guarantee, like ResumeZest.
This means that if you do not get more interviews with your new resume, the company will rewrite your resume for free.
This 60-day interview guarantee is the best resume guarantee available in the resume writing industry. It allows you enough time to test the performance of your resume in real-world job application processes.
Many other kinds of resume guarantees, such as the satisfaction guarantee, only last as long as you carry on the revision process. The moment you sign off, there's no way to go back to your writer if your resume does not perform well.
Find My Profession's Resume Writers
Find My Profession started its journey in 2015.
The company has a team of qualified and experienced professional resume writers. Some of the writers have over two decades of resume writing experience.
All the writers are US-based and members of the Professional Association of the Resume Writers and Career Coaches (PARWCC), the leading association for career professionals in the world.
On top of that, their resume writing team is experienced in covering over 85 industries, which gives the company freedom to assign you the writer most experienced in covering your professional field.
You will have your resume writer's email and phone number to keep in contact throughout the resume writing process.
Contacting Find My Profession
You have three ways to get in touch with Find My Profession:
Pick up the phone and dial (831) 888-0967 to get your questions answered right away.
You can access the live chat option (at the bottom right corner of the Find My Profession website) if chatting is your thing.
You can also send an email to help@findmyprofession.com for any query.
Client Satisfaction and Reviews
What is the best way to evaluate a company's client satisfaction records?
By analyzing authentic customer feedback received on trusted review platforms such as Trustpilot, Google, Sitejabber, and Yelp.
We will do exactly that to get the real customer satisfaction scores of Find My Profession.
On Sitejabber, Find My Profession received 209 reviews with an overall rating of 4.8.

On Trustpilot, the ratings are even better, with an overall score of 4.9 based on 280 reviews.

On Google, the company has a flawless track record of a 5-star overall rating based on 108 reviews.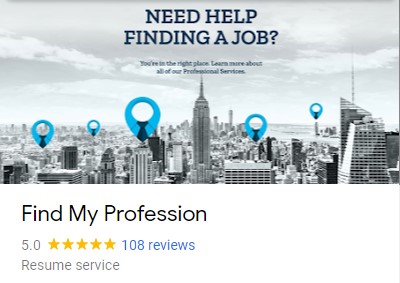 Although they have not received many reviews on Facebook and Yelp, the customer sentiment tells a similar story with overall 5-star ratings.
Bottom Line
When it comes to getting the job you want, a lot is riding on your resume.
That's why it is important to get the assistance you need from a resume writing company with a proven track record of success.
With its team of experienced and certified resume experts covering over 85+ industries, and flawless customer satisfaction scores across review platforms, Find My Profession is one of the top choices of elite executives.
However, you'll also want to review a couple of resume services to ensure you get the best fit for your needs.
Review and compare companies, including ResumeZest and Find My Profession, and pick the ideal one according to your career situation and trajectory.